Air Duct Cleaning Services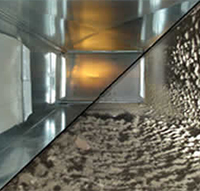 Air ducts or supply air vents are usually located in every room with its' main source lines located in the attic area connected to the HVAC unit area, furnace/main unit. A common misconception that occurs on a daily basis, especially now as IAQ awareness grows, is that a simple basic duct cleaning can not be done to older homes that have never had a cleaning done before at all. Most new or current home owners are living in homes that are 10-30+ years old and 95% of the time the duct work has never been touched.
In these instances, after thorough inspections, the common problems faced tend to be torn ducts, excessive dust and debris, and severe mold and mildew contamination. If the ducts are salvageable then a full cleaning , mold and mildew remediation, air leak test and sealing would be conducted to the duct system, as well as the HVAC unit (main unit). After the entire system (HVAC, Supply/Return Ducts), are addressed, then basic up keep can be maintained at small costs every 1 to 3 years. If the ducts are irreparable, we then recommends a replacement and full treatment of the HVAC unit(mold and mediation).
Most homeowners have no idea what goes on inside their home's air ducts. But the fact is, they can become littered with years of accumulated dirt, debris and allergens like pollen, dust and pet dander. Industry standards recommend that you have your air ducts inspected every 2 years for cleanliness. Frequency of cleaning depends on several factors, not the least of which is the preference of the home owner.
Home duct systems are important components in your air supply system and as such they are also the leading factor in becoming a health hazard contaminating your IAQ (indoor air quality). It's not your health that can be affected but also your pocket. We are aware of home improvement shows that speak about changing windows and sealing them properly and caulking doors and electrical outlets, however, these shows almost never suggest changing out old duct work from older homes, even though the ac system is the largest energy user in our home.
Almost all old homes have air leaking out of their old ducts and inappropriately insulated attics to fill up several rooms. That is money leaking from your pockets. We offer free inspections where they come and inspect your entire duct work as well as your system to assess their condition and provide you with a free estimate!
By having your air ducts cleaned regularly, you'll help improve the indoor air quality in your home, and enhance the efficiency of your heating/cooling system, which may reduce energy bills. Our technicians use one of the most powerful and effective air duct cleaning systems on the market today. This allows us to clean all types of duct work and air duct systems no matter what part of the country you live in. Our air duct cleaning methodology follows the guidelines of the National Air Duct Cleaners Association (NADCA), and with the expert advice from your air duct cleaning technician, you can count on us.
Air Duct Cleaning Service Areas
Houston
Dallas
Austin
San Antonio